ACCOMMODATION FOR CYCLISTS AROUND LAKE CONSTANCE
Hotel-Restaurant Krönele in Lustenau
Are you planning a cycling holiday around Lake Constance and looking for a suitable place to stay? Then, the Krönele Hotel & Restaurant is the right place for you.
Situated directly on the Rheintal cycle path, our comfortable 4-star hotel offers comfortable double and single rooms for up to 6 persons.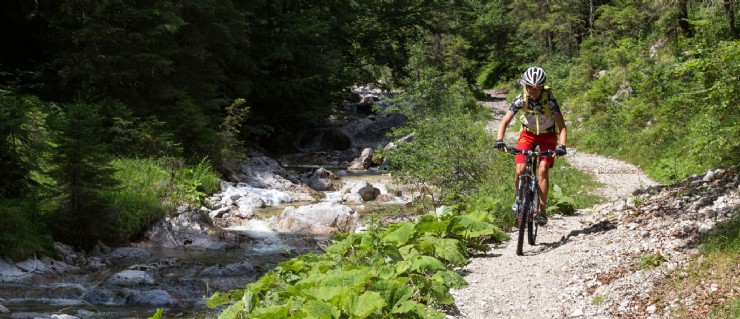 Our service for your Lake Constance cycling holiday
Our hotel has an underground car park where your bicycles will be kept safe and protected from the weather. We will be happy to provide you with a bicycle pump and tools for smaller repairs.
Spare parts and help with larger repairs are provided by specialist shops within walking distance.
Refreshment and relaxation
What better way to relax after a long cycling trip than to refresh yourself in the shade of the chestnut trees in our open-air restaurant? Our head chef will serve you traditional Vorarlberg dishes, crispy salads and healthy, seasonal dishes. Our sauna with steam bath is also a nice place to relax.
Bicycle rental
You want to travel unburdened and need a rental bike? No problem. We'll be happy to help you and organise a matching bike for you.
Dornbirn – a mountain biker's paradise
Numerous uphill and downhill mountain bike trails of different difficulty levels await you 10 kilometres away in Dornbirn and the surrounding municipalities in Vorarlberg.
Our tip: mountain bike tour to Weißenfluh Alpe
The tour, which is approximately 25 km long, starts in Dornbirn and leads you across the Kobelache canyon up to the Weißenfluh Alpe, where you can recharge your batteries before starting your exciting downhill ride through Kehlegg and Steinebach.
Lenght: 24,8 km
Duration: approx. 4 hours
Highest point: 1367 m